Safety Tips for Hanging Holiday Lights
Is there anything like Christmas lights to get you into the holiday spirit? From the tree to the front porch and fence, Christmas lights make the holiday season merry and bright. However, Christmas lights can pose a major hazard inside and outside your home. Here's how to prevent a potential disaster.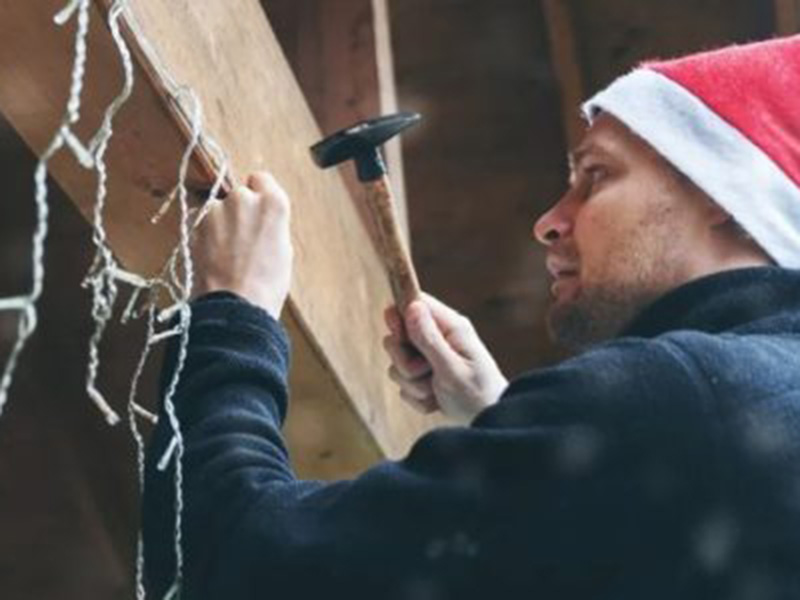 1. Keep It to 3 Strands
The Electrical Safety Foundation International recommends connecting no more than three strings of incandescent lights together. If you're using LEDs, most UL-labeled lights will tell you on the package how many strings of lights you can safely string together.
2. Look for the UL seal
No matter the climate where you live, look for the UL seal on the box. That seal means that the lights meet the national industry standards of the American National Standards Institute.
3. Pick the Right Kind of Light
While indoor and outdoor lights are similar in appearance and function, you shouldn't use them interchangeably. Indoor lights should only be used indoors and outdoor lights should only be used outside. Here's why.
Indoor lights have been specifically tested to make sure they aren't a fire hazard for tree decorating, while outdoor lights are specifically tested to withstand cold and rainy weather. Outside lights could pose a fire hazard if you string them up on the family tree because they're often hotter, while the indoor lights probably wouldn't survive the snowstorm.
To be safe, you can purchase lights that are certified for indoor and outdoor usage. Whether you're using indoor or outdoor, though, the US Fire Administration recommends buying only lights certified by an approved testing facility (more on this next)
4. Choose the Right Cord
Like the string lights, you should always only use an extension cord that is rated for outdoor use when stringing up lights on the porch or house. Indoor-use extension cords aren't made to withstand cold or wet environments.
5. Keep the Cord Dry
You shouldn't let your extension cords sit on the ground as shown in the photo. Make sure the junction where your light cord and your extension cord meet stays out of puddles, damp soil, snow, or ice because a potentially damaged extension cable could cause injury or death from electrocution, fire, or carbon monoxide poisoning if wet.
You can buy an inexpensive cord protector — like the Twist and Seal Heavy Duty Cord Protector — to keep your cords dry and safe. You could also plan your light display so that connections are suspended off the ground instead of sitting in contact with it.
6. Mind the Outlet
If your lights look like this photo, then you're doing it wrong — that's way too many plugs in one outlet.
We recommend plugging your lights into a ground fault circuit interrupter (GFCI) outlet. These outlets will shut the circuit down if there is too much current flowing through, preventing fires. If your outlet is a GFCI, it will have a reset and test button in the center. If you don't have one, you can purchase a portable GFCI outlet from your home-improvement store. You could try this waterproof in-line GFCI or this portable GFCI.