Generators That Meet Your Needs
Not only does Esposito's Electric provide comprehensive electrical services, but we also provide a variety of generators for our customers to choose from. The addition of a generator to your residential, commercial, or industrial property will significantly increase your ability to rely on your electrical systems. With a generator, you won't have to stop living or working for a moment. The generators that we provide give you, your business, and your loved ones a safety net to fall into.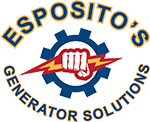 Powerful & Reliable Solutions for All
Whether it is your home, your business, or an industrial facility, they can all benefit from having a generator on the premises. Generators are extremely important additions to have on your property in order to prevent stoppage times. Generators allow you to continue living, working and producing without interruption. The generators that we provide at Esposito's Electric are powerful and reliable enough to power all of your electrical systems in the event of an outage.